About
City Springs Theatre Company will present MAMMA MIA! outdoors at the Ameris Bank Amphitheatre.
The Ameris Bank Amphitheatre is located at 2200 Encore Parkway, in Alpharetta, GA.

For questions, please contact the Box Office at 404-477-4365 or info@cityspringstheatre.com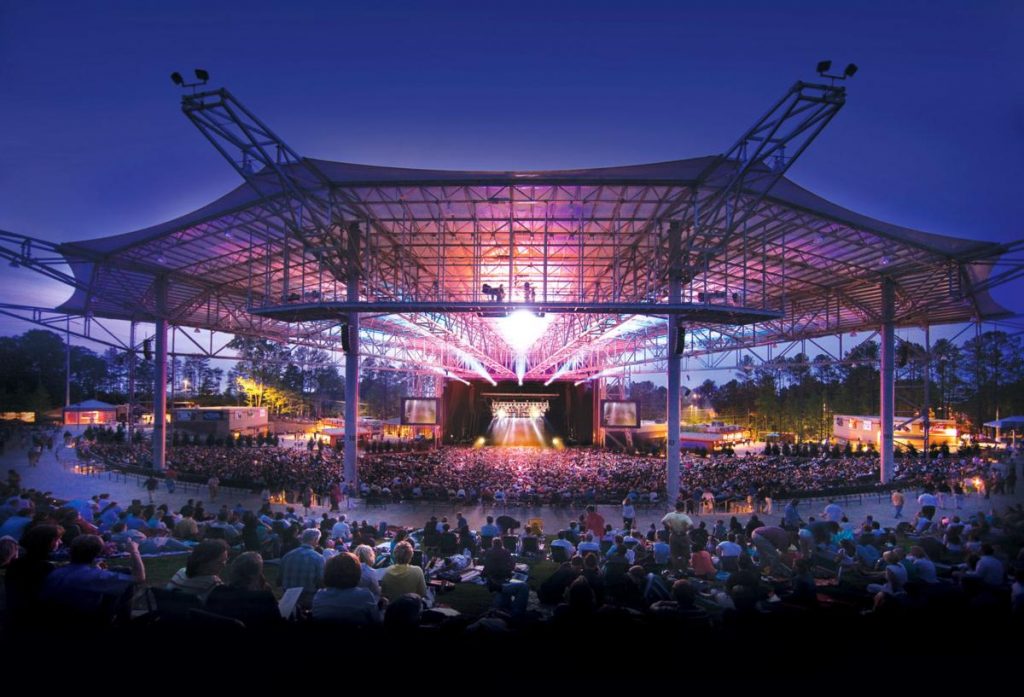 DIRECTIONS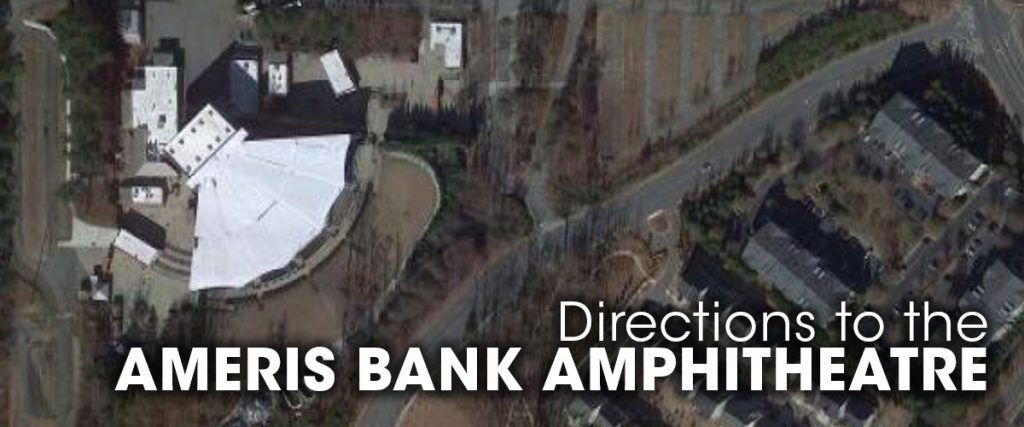 Address: 2200 Encore Pkwy, Alpharetta, GA 30009 (Google Maps)
Getting There By Car
 The Ameris Bank Amphitheatre is located less than a mile from the Mansel Road Exit (Exit 8) on I-400 in Alpharetta.
It is located 1.6 miles from the Haynes Road Exit ((Exit 9) on I-400 in Alpharetta.
Public Transportation
The nearest access to public transportation is at Northpoint Parkway and Encore Parkway approximately a one (1) mile walk, or is easily accessible by any ride share options.
Visit the MARTA website for more information.
Taxis and Rideshares (Uber & Lyft) may be picked up outside the East Gate to the left as you exit the venue, in Parking Lot P on the East side of the venue. Rideshare, Limos and taxis are not allowed to pickup or dropoff in Parking Lot A or VIP Parking Lot.
PARKING
All ticket purchases for City Springs Theatre shows at the Ameris Bank Amphitheatre include FREE PARKING.
Unlike tickets regularly sold by the Amphitheatre, parking will not be assigned on your ticket. Parking lots A and C will be open for parking on a first-come basis.
The VIP parking lot will be open to our Producer's Circle members and will require a special parking pass. It will not be open to the general public.
Parking Lot A – 1755 Founders Parkway, Alpharetta, GA 30009
Parking Lot C – 11450 Maxwell Road, Alpharetta, GA 30009
VIP Parking Lot – 2300 Encore Parkway, Alpharetta, GA 30009
ACCESSIBILITY
The Ameris Bank Amphitheatre (a Live Nation venue) strives to ensure that all of our guests have a great time at our venue. If you need additional assistance while you are here please make sure you let us know.
Ticketing – ADA tickets are available by calling the City Springs Theatre Company box office at 404-477-4365. The amphitheatre its not handling ticket sales for this special engagement.
Day of Show Parking – Accessible Parking is located inside Lots A, C and VIP Parking Lot. Let the parking staff know that you need accessible parking and they will direct you to this lot. You need to have an accessible placard or a wheelchair accessible license tag in order to park in this lot, but please be advised that parking is limited. If you do not absolutely need accessible parking- please park in the general lots.
Accessible Stations – if you have questions or need assistance we have a booth staffed with customer service employees to help answer questions related to seating or other accommodations. These booths are located at both Entrance Gates and in the Main Box Office.
Unexpected Needs – if you have had an injury or illness that prevents you from using the original seat you purchased please call the City Springs Theatre box office to exchange all tickets for accessible seating. Re-seating is NOT guaranteed. Please remember that accessible seating permits for the guest with the accessible need and one companion.
Interpreter Requests – if you will need an interpreter for an event please give us at least 2 weeks notice to secure. Guests that request an interpreter will need to pick up their tickets at will call. When the tickets are picked up we will introduce you to your interpreter for the evening and take you to your seats. There is no charge for interpreter services.
Accommodations – all venue bathrooms, concession stands, and merchandise stands are accessible.
Hearing Assistance –

Guests that require assisted listening devices must contact our venue office prior to the event to arrange for a device. Please give us at least 2 days notice.
POLICIES
Ameris Bank Amphitheatre Policies
re: Covid-19
Masks required during the performance unless eating or drinking. Temperature checks will be conducted upon entry. Anyone with fever must be quarantined, re-checked in 15 min. If they still have a fever, they will be asked to leave and a credit for a future production may be offered. If you are feeling ill, or have had contact within 14 days of someone diagnosed with Covid-19, please stay home.
Alcohol
The venue offers a wide variety of alcoholic beverages for purchase during your time at the venue. You are not permitted to bring any alcoholic beverages into the venue. A valid and current Driver License or State ID card is required to purchase alcohol- guests will be required to show ID every time they purchase.
All bags larger than a clutch purse must be a clear, plastic bag. All bags are subject to search upon entry. Guests have the right to refuse a bag search and the venue has the right to refuse entry. If you have any items that are not allowed into the venue please return them to your vehicle.
The venue does not allow weapons on our property. Guests should follow all applicable laws regarding securing a weapon in a vehicle if they have it on them when they arrive. The venue will not secure weapons and will take no responsibility for any weapons left in vehicles.
We offer a wide variety of concession options through the venue. This includes cheeseburgers, hot dogs, nachos, pretzels, candy, popcorn, fountain soda (Coca Cola Products), water, and Red Bull.
Concessions are located throughout the venue.
Guests are permitted to bring in One (1) factory sealed bottle of water up to one (1) liter in size. This policy is subject to change based on artist requests or safety considerations. Aluminum bottles, refillable plastic water bottles are permitted. Camelbacks are not permitted.
Water fountains are located near East and West plaza restrooms. Water bottle refilling stations are located just inside the West Gate.
Drop off areas are located at the Main Entrance at 2200 Encore Parkway. Please let the parking staff know that you are dropping someone off and they will direct you. Guests cannot remain in their vehicles during the event- they must drop off and return to pick up.
In the event of an emergency while on site- the Amphitheatre has trained paramedics to assist with any medical issues. First aid is located inside the East Entrance Gate, but any staff member with a radio can dispatch First Aid to the location needed. Local law enforcement officers are also on site for every event and can assist if needed or requested. Venue management works closely with all appropriate emergency agencies and services to ensure that we are up to date on any dangerous weather or potential crowd related issues.
In the event of a weather emergency – we will communicate with guests that are inside of the facility as well as guests on their way to the venue. 
Guests are expected to behave respectfully and in accordance with venue policy, state and local laws. Any guest that is acting in a manner that venue management deems unsafe can be subject to eviction. If a guest violates a state or local law they will be subject to any tickets or punishment deemed necessary by local law enforcement.
Lawn chairs are available for rent for $10.00 per chair and must be turned in at the end of the event. If you return your chair to the lawn chair rental you will receive $1.00 back. Guests are able to bring their own lawn chairs, but they must be no higher than 9 in off the ground. No bag chairs, camping chairs, or folding chairs are permitted.
The lawn is always first come, first serve. Guests may notice a row or seat number on their lawn ticket, but that is only used for tracking purposes. There are no assigned seats on the lawn.
Drop off and pick up of stretch limousines must be done exclusively on Encore Parkway, outside the entrance to the East Gate (2200 Encore Pkwy, Alpharetta, GA 30009).
Re-Entry is not permitted. Please ensure that everything you will need for the event is brought in with you. If you do leave at any point in the evening- you will not be allowed back in without a new ticket.
We participate in a venue wide recycling program. You will find recycling bins located though-out the venue. Please recycle where possible.
Restrooms are located in all plazas and on the lawn. A family restroom is available in the First Aid area.
All patrons must pass through a metal detector at the gate. If you do not wish to walk thru a metal detector, please ask for a manual search from the security team.