About
DIRECTIONS
PARKING
ACCESSIBILITY
POLICIES
About
The main performance home of City Springs Theatre Company is the Sandy Springs Performing Arts Center's Byers Theatre, located in the heart of the new City Springs development. City Springs Theatre, in affiliation with the city of Sandy Springs,  produces musical theatre productions, as well as arts education programs at the theatre.
City Springs Theatre Company offices and studios are located at 8601 Dunwoody Place, Suite 136, Sandy Springs, GA, 30350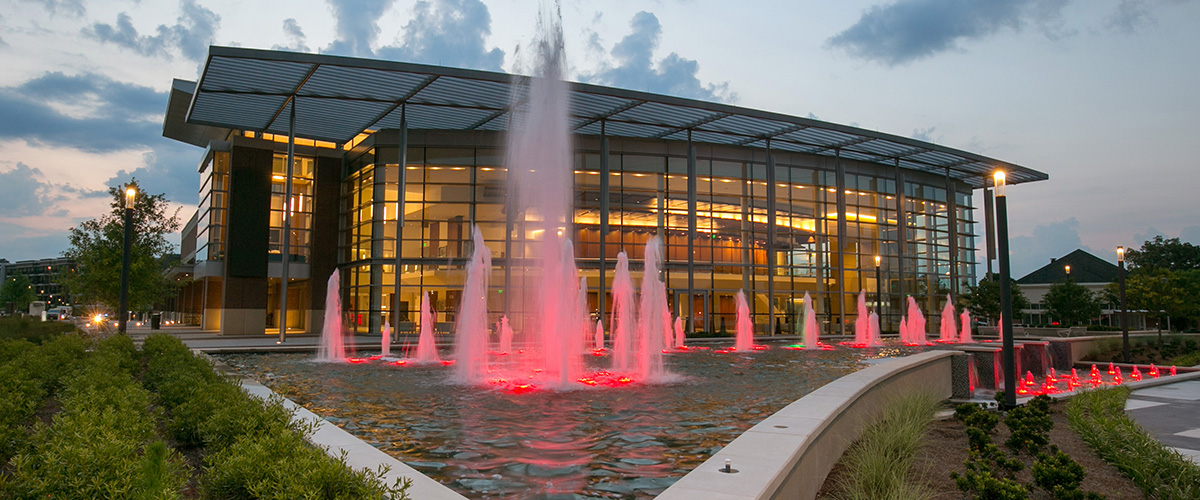 ABOUT THE SANDY SPRINGS PERFORMING ARTS CENTER
When the City of Sandy Springs incorporated in 2005, the City lacked a center point and a traditional component of most cities – a town square. That challenge presented the community with the unique opportunity to craft its downtown from scratch, transforming a centrally-located strip mall with a huge asphalt parking lot into a 21st Century town square. Planning began in 2012, with a public-involved planning process to develop a master plan for the City's downtown area. The community asked for the creation of a unique, vibrant, walkable City Center, which incorporates mixed-use development, introducing new dining, high-end residential living, and amenity retail and entertainment options.  The community also sought an appropriate setting for a performing arts facility. In determining the content desired related to the arts which would influence ultimate design, the community was again engaged in public visioning sessions, also including members of the arts community. The resulting design created a complex which features a main theatre designed to support a wide-range of programs and activities. Sizeable at 1,070 seats, the Byers Theatre also incorporates a sense of intimacy ideal for theatre productions. Versatility is the best adjective to describe the Studio Theatre which provides the right sized venue for smaller productions, in addition to its flexibility to meet the needs of corporate meetings and events. Located above the Studio Theatre is an open-air City View Terrace, offering compelling views of City Springs and beyond. This rentable space is equally fitting as an intimate performance space or reception. The Terrace is adjacent to the Conference Center which offers a variety of spaces for company meetings and special events. To learn more about the entire City Springs complex, visit www.CitySprings.com

ABOUT THE BYERS THEATRE
The centerpiece of the Sandy Springs Performing Arts Center is this best-in-class performance venue. The 50,000 square-foot, Byers Theatre supports a wide range of programs and activities. The theatre features excellent sight lines, with seating for 1,070 on three levels including box seats. Superb acoustics, a full orchestra pit, and fly loft make the theatre an ideal venue for a variety of performance events. The theatre's modern performance technology offers a robust lighting inventory and a cinema-quality 4K projector and screen. There is one balcony, a loge level, and a main orchestra level with removable seats in front to accommodate cabaret tables, dancing, or other special events. The room is designed to enable unused areas to be darkened, creating a sense of intimacy for smaller audiences.
DIRECTIONS
PARKING
ACCESSIBILITY
POLICIES