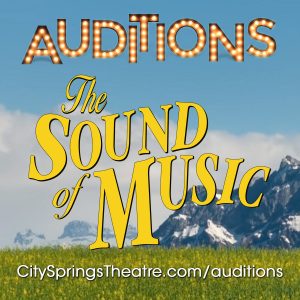 NOW ACCEPTING AUDITION SUBMISSIONS FOR THE SOUND OF MUSIC THROUGH AUGUST 1!
AUDITION NOTICE
The Sound of Music
SUBMISSION DEADLINE
August 1, 2021
CHARACTER BREAKDOWN
Download
NO APPOINTMENTS
Resumes, headshots and links to video submissions should be sent to the submission button above.  No emails or phone calls, please.
CALLBACKS
August 4 & 5, 2021 at City Springs Theatre Studios
CONTRACT
AEA LOA-LORT
$502/week minimum + health and pension
$300/week Non-Equity
SEEKING
Equity and Non-Equity actors/singers/dancers for all roles in the "The Sound of Music."
IMPORTANT DATES
Callbacks: August 4 & 5, 2021
Rehearsal Starts: August 16, 2021
Performances:September 10-26, 2021
PREPARATION
Auditioning performers should prepare 32 bars of a musical theatre selection with live or tracked accompaniment. Please slate name and audition selection before singing. If in need of a vocal accompaniment for the audition, please use the following options here: https://www.dropbox.com/sh/wi34jhyyfy43npk/AACxlLe9k1P6y6A5354aYtVma?dl=0
YOUTH AUDITION
SIGN-UPS ARE NOW CLOSED for our in-person youth auditions for the show. If you did not sign up, you can still submit via the SUBMIT AUDITION button at the top of this page. 
Youth compensation is $150/week. Select roles will be double cast.
PERSONNEL
Shuler Hensley, Director
Cindy Mora Reiser, Associate Director & Choreographer
Natalie DeLancey, Executive Director 
Jalise Wilson, Company Manager
OTHER
City Springs Theatre and Actors' Equity Association contracts prohibit discrimination. We are committed to diversity and encourages all its employers to engage in a policy of equal employment opportunity designed to promote a positive model of inclusion. As such, we encourage performers of all ethnicities, gender identities, and ages, as well as performers with disabilities, to submit.
There are no auditions currently scheduled. Check back soon for more information!